Thibaud Dezutter Racks up Double-Double as Laval Takes Down Algoma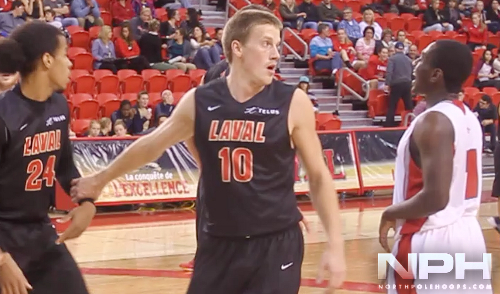 QUEBEC CITY, QC – The Laval Rouge et Or headed into their matchup with Algoma without Boris Hadzimuratovic (groin) and Hugues Ryan (knee), both starters out with injuries, the latest suffered by Ryan in Thursday's tournament opener. Thibaud Dezutter and Karl Demers-Belanger took care of business and led their team to a 68-63 win over the Thunderbirds.
In the first few minutes of the game, it seemed like Terrell Campbell of Algoma would be taking matters into his own hands. The six-foot-five forward converted on the first three possessions, going to the line once and knocking down two long jumpers.
On the other end, Laval was looking for options, as they couldn't connect on open looks. That's when Thibaud Dezutter got to work. The third-year swingman scored a couple of baskets on the break, then nailed a long two, and was active on the boards, managing eight in the first half alone. On the defensive end, he did a brilliant job contesting Campbell as the game progressed. The help provided most notably by Karl Demers-Belanger allowed Laval to take a 16-13 lead after one.
In the second quarter, Campbell benefited from six-foot-one Nicolas Begin guarding him. He scored on post-ups, got to the line, and was able to get his teammates involved. The problem is they couldn't knock down a shot from outside the paint.
The Thunderbirds shot 0-8 from three-point range in the first half, and eventually finished 1-16 for the game. Lead guard Reynaldo Carnakie showed some great ball-handling/playmaking abilities, but he simply couldn't put the ball in the basket, as he went 2 for 10 from the field, 0 for 3 from the free throw line, totalling four points on the night.
On the Rouge et Or side, Demers-Belanger hit a couple threes to partially overcome Algoma's physical and aggressive defense. Antoine Guillard's work on the boards is also worth mentioning, grabbing five of them in the first half and deflecting several others in the absence of Hadzimuratovic. Jacques Paiement Jr. then unleashed a full-court pressure defense with two minutes left in the quarter, which led to a 10-2 Laval run and a 37-31 lead for them at halftime.
"Some guys being out with injuries, it provides others with opportunities to show what they can do", said Laval Head Coach, Jacques Paiment Jr.
"We got good contributions from a couple of guys that helped us play with more energy", he added, and that energy showed in the second half.
The home team seemed to pull away midway through the third quarter. They held a 46-37 lead at one point, getting successful transition opportunities and getting Terrell Campbell in foul trouble early.
But the Thunderbirds somehow held on, in part because of the work of Brett Zufelt who annoyed Laval defenders on the offensive glass and scored some points off put-backs. The Rouge et Or then couldn't seem to get it going from beyond the arc, Thibaud Dezutter notably going 0 for 8 on three-pointers through three quarters.
Dezutter would finally hit a shot from deep in the fourth quarter, two in fact, finishing 2-10 (10-21 overall) on the night, and helping Laval to a 1-1 record, after  dropping their first tournament game to McMaster last night.
NPH TOP PERFORMERS
Laval
Thibaud Dezutter: 24 points, 10 rebounds, 1 assist.
Karl Demers-Bélanger: 15 points, 2 assists, 2 rebounds.
Algoma
Terrell Campbell: 13 points, 4 rebounds, 2 steals.
Brett Zufelt: 13 points, 5 rebounds