NPH CIS Season Preview – ST FX X-Men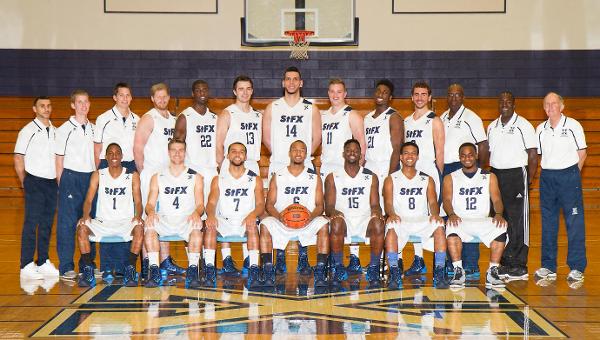 Last Season:
| | | | | | | |
| --- | --- | --- | --- | --- | --- | --- |
| Overall | Pct. | Conf. | Pct. | Streak | Home | Away |
| 14-19 | .424 | 9-11 | .450 | W2 | 6-4 | 3-7 |
Head Coach: Steve Konchalski
Associate Coach: Doc Ryan
Assistant Coaches: Denton Anthony, Dave Joyce
Key Players: Rodrigo Madera, Jordan Clarke, Will Donkoh
Returning Players: Rodrigo Madera, Jordan Clarke, Will Donkoh, Shane Coupland, Jordan Tyrrell, Dave Benoit, Kohlin Rasenberg
Additions:
Alex Arthur – transfer Dalhousie, Kevin Bercy – Ottawa, Cameron Walker – Texas, Tayo Shittu – Burlington, Jameel Williamson, transfer Centennial College, Davonte Provo – East Preston, Julius Antoine – Toronto.
Departures: Jeremy Dunn (1st Team AUS All-star), Tyrell Vernon, Ellis French
The St FX X-Men didn't lose a lot from the 2012/13 team in terms of numbers but took a huge hit on the quality aspect. Dunn and Vernon have carried the load for the X-Men the past two season with offense starting and flowing through these players hands on every possession. That being said, it is all about who steps up and fills the void for the X-Men.
They possess an immovable force with 6-10 post player Rodrigo Madera who is more than a handful in the low blocks. Medera has good footwork and finishes well around the rim. Look for the X-Men to play some old school post bang out basketball and establish the paint. In addition to Medera. 6-4 Dalhousie transfer Alex Arthur will provide strong paint play and take care of cleaning up the boards and doing some utility work.
Jordan Clarke and Will Donkoh bring solid experience and will have to step up their leadership role as well as their statistical categories to get the X-Men rolling.  Both are excellent athletes and can put pressure on the rim as slashers but their strongest abilities will be getting down and locking up opposing team guards.  Shane Coupland who was a major contributor for the X-Mens 2012 Nationals run fell off the map last year but has the abilities to be a huge contributor to a winning X-Men team.
The big story out of Antogonish is the recruiting class for the 2013/14 as they have added solid transfer players in Alex Arthur and Jameel Williamson who will carry the PG responsibilities and great potential players in 6-6 swing forward Kevin Bercy, 6-7 forward Cameron Walker, 6-5 power forward Tayo Shittu, 6-2 swing guard Julius Antoine and Nova Scotia's 6-0 point guard Davonte Provo.
Head Coach Steve Konchalski is entering his 39th season at the helm, and is excited about the change of direction in the program.
"This season will be a work in progress, the plan is for these talented young players to lead our team to great heights over the next four or five years. We have a nice balance between experience and youth and will be able to get back to playing our traditional style of X-Men basketball –using our athleticism and depth to provide 40 minutes of pressure on defense while constantly attacking with our transition offense," explained Konchalski.
The X-Men definitely have their work cut out for them for the 2013/14 season and are going to go through some growing pains.
One thing is for certain, the very athletic X-Men will be coming at opponents throughout the entire game, and if anyone sleeps on them, X will take advantage.