Toronto Basketball Culture Building at Ryerson: Rams Blowout Loss to Wisconsin a Learning Experience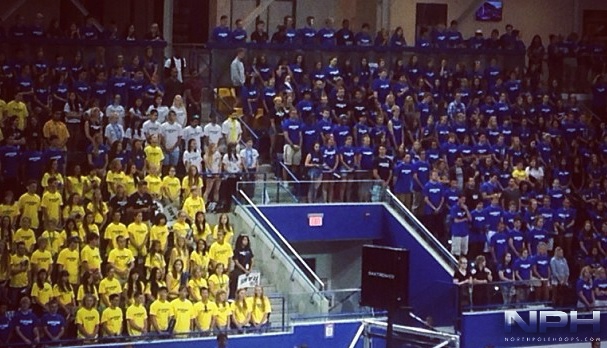 Follow Charles Blouin-Gascon on Twitter @RealCBG & NPH @Northpolehoops
NPH TOP PERFORMERS
Wisconsin
Sam Dekker: 18 points, 4 rebounds, 3 assists
Zak Showalter: 10 points, 3 rebounds, 1 steal
Ryerson
Jordon Gauthier: 24 points, 5 rebounds, 1 assist, 1 block
Jeremiah Wheatle: 9 points, 2 rebounds, 1 assist
TORONTO,ON–Frosh 2013 at Ryerson University was officially launched with a basketball game between the Rams and the NCAA's Wisconsin Badgers of the BIG 10 conference. The Rams faithful traveled in bunches to the Mattamy Athletic Centre to support their favourites, but the outcome wasn't the one the 2,354 fans hoped for–a sound 84-61 defeat.
To be fair, the outcome might have been doomed from the start. Ryerson head coach Roy Rana revamped his starting lineup, with the backcourt of Jahmal Jones and Aaron Best sitting the game out due to injury. The Rams were also without two other core veterans in Ostap Choliy and Yannick Walcott, trotting out a lineup that was without four key cogs and playing a team that lost in the Big Ten title game and qualified for March Madness for the fifteenth year in a row in 2012.
The cup might have seemed barren, but Rana saw the positives. A game like this one is a way to see what he has on his roster in some of the new faces. "It's a great way for them," he said, "to understand how quickly and how much they're going to have to compete."
It's not a coincidence that the fifth-year bench boss started fourth-year forward Bjorn Michaelsen, sophomore Juwon Grannum along with three newcomers–Jean-Victor Mukama, Adam Voll and Adika Peter-McNeilly. "We're playing a lot of guys who are playing their first game at all in the CIS," Rana said. "It's great learning for them."
But Ryerson was overmatched, trailing 27-10 at the end of the first quarter when the Badgers closed on an 11-0 run.
Without the four veterans, it was up to the other upperclassmen to step up in Michaelsen and Jordon Gauthier–and while the former had a rough game with 4 points on 2-of-7 shooting, Gauthier was solid.
But not solid enough, as the Badgers slowly but surely pulled away. Bo Ryan's team used its size advantage (i.e. it would win the rebounding battle 40-30) to put the lead at 49-24 at halftime, 77-46 after three quarters and then 84-61 by the end of the game.
Wisconsin has promising sophomore Sam Dekker on its roster, a six-foot-seven forward with a good shooting touch. Draft Express has him at the No. 21 spot on its 2014 NBA Mock Draft, but Dekker doesn't pay attention to that. "The task at hand is what's most important, and that's winning for my school and winning for my team," he said. "I have to put all the individual stuff aside and make myself as good as possible for our team."
Rana said that games like these aren't a way to gauge where his team is compared to other OUA teams–that, for example, there's no way to say this or that about Ryerson in comparison to the Carleton Ravens, who beat this same Wisconsin squad 95-82. "We'll gauge OUA teams when we play them," Rana said. "This is all about us, it's not about anybody else."
Dekker led the Badgers offensively with a team-high 18 points. Every player on the Wisconsin side saw at least 10 minutes of action, with Zak Showalter chipping in another 10 points of his own. His putback jam, in the second half, was a highlight of the contest.
For the Rams, everything went through fourth-year Jordon Gauthier who finished with a game-high 24 points. Jeremiah Wheatle and Peter-McNeilly both added nine points apiece.
Next up for the Rams is an alumni game on September 29, and beyond, a spot in the Queen's tournament in Kingston from October 4 to 6.
Despite the blowout loss, Ryerson University brought something new to the table once again, a large group of  first-year students; building their identity, and a stronger Toronto basketball culture in the process.