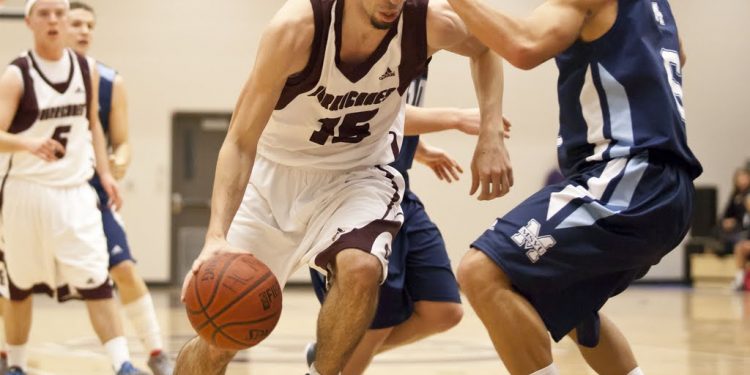 Things are starting to heat up in Atlantic Canada as the ACAA championships will be held in Fredericton, N.B., just over three weeks from now. Here's a look at the weekend's marquee match-ups, and their potential implications on the standings.
St. Thomas Tommies vs. Crandall Chargers
St. Thomas heads to Moncton rounding into the form they showed in winning last year's ACAA championships in Charlottetown, having won their last six games including an 84-67 triumph over Holland College last Saturday in Fredericton to snap the Hurricanes' 10-game winning streak.
The recent surge has vaulted the Tommies, bronze medalists at the 2012 CCAA championships, into 12th in the most recent CCAA rankings, and they'll look to continue riding their wave of momentum in Moncton and Truro, where they will play Dalhousie Agricultural College on Saturday at 7 p.m.
The Tommies' surge may well coincide with the return of shooting guard Nathan Mazurkiewicz to the lineup. A second-team ACAA all-star last season and 2010-11 ACAA rookie of the year, Mazurkiewicz has averaged almost 15 points per game in seven games since returning, including a season high 27 against Holland College last Saturday.
Jason Daniels has also been a strong source of offence for St. Thomas this season, averaging 15.5 points per game for the season while going over 20 points on three occasions.
The Tommies have benefited from the strong rebounding trio of David Dolan, Lonzel Lowe and Calvin Leblanc, each of whom have pulled down over six boards per game this season. Any of these three can provide matchup problems in the paint, making St. Thomas a very difficult team to play against down low.
Meanwhile, the Chargers also come in with some momentum, having won four straight including an 81-64 win over Mount St. Vincent at home on Feb. 2.
Crandall has some firepower on their roster, as they boast the second-best offence in the ACAA averaging almost 84 points per game. It certainly helps to have four players averaging over 13 points per game on the roster.
At either end of the floor, the Chargers are led by Taylor Norum, who is averaging 14.3 points and eight rebounds per game. Norum has four double-doubles to his credit in 12 games this season, with his most recent one coming against King's College on Jan. 27.
Crandall's rebounding has also picked up with the emergence of Brandon MacInnis. In five games since 2013, MacInnis has averaged 11 points and 9.4 rebounds per game to give Norum some help on the boards, which could prove valuable against a team like St. Thomas.
On the offensive front, Alex MacLeod (14.2 PPG, 4.6 REB), Nathaniel Fells (13.3 PPG, 2.7 STL, 2.6 AST) and Kemoy Shaw (13.2 PPG, 6.8 REB) give the Chargers a number of weapons they can use, which means any double-team by St. Thomas could provide an opening for someone else on the Chargers to step up.
The Tommies won the only other matchup between these two teams on Nov. 30 (81-70 in Fredericton), so another St. Thomas victory would give them the head-to-head tiebreaker in the event the teams are tied once again to end the season.
This is a big game for both teams, as the winner will take over sole possession of second place in the ACAA standings.
Crandall Chargers vs. Mount Allison Mounties
After playing St. Thomas on Friday, the Chargers will take the court for the second time in less than 24 hours as they travel just over a half hour down the road to play Mount Allison.
After what's expected to be a physical game against St. Thomas, Crandall may be weary heading to Sackville to battle a Mounties team that has won five of its last six contests to get themselves within striking distance of the third seed in the ACAA.
Like St. Thomas, Mount Allison has a strong, multi-faceted rebounding presence. In order for Crandall to pull out a victory, they will have to contain fourth-year Mounties forward Benjamin Chisholm, who is one of the CCAA's premier scorers and rebounders, averaging nearly a double-double per game to lead the ACAA in both scoring and rebounding (18.8 PPG, 9.9 REB).
In two games against the Chargers this season, Chisholm has averaged 15 points and 10.5 rebounds per game, so he's a player Crandall must focus on. After Chisholm, Brandon Malally becomes the second premier scoring and rebounding option for Mount Allison. Malally is averaging 12.8 points and 8.2 rebounds per game, though he also has a penchant for coming through in the clutch, as evidenced by a last-second 3-pointer to eliminate Holland College from the ACAA championships last March.
Malally has averaged 16 points and 10.5 rebounds per game in two matchups against Crandall this season, adding a formidable presence to the Mount Allison lineup.
Crandall has earned the season tiebreaker already, having defeated Mount Allison in two tightly contested games in November, but Mount Allison will likely come out looking to prove they can beat the Chargers as they set their sights on a potential top-three seed at the ACAA championships.
Holland College Hurricanes vs. Mount St. Vincent Mystics
Holland College currently sits eighth in the CCAA rankings, though they had a 10-game winning streak snapped by St. Thomas last Saturday in Fredericton. The Hurricanes will look to regain some momentum on a weekend trip to Halifax. First up is a game against Mount St. Vincent on Saturday at 4 p.m., before playing King's College on Sunday at 2 p.m.
Holland College (14-2) picked up a victory over Dalhousie Agricultural College on Sunday, but now they face a perennial contender in the Mystics, who always play a tough brand of basketball.
Rookie centre Chase Bowden has been a force this season, averaging 16.8 points per game while pulling down 9.9 boards per game, including a team high nine double-doubles.
However, if the Mystics focus too much on Bowden, Holland College's depth can make them pay. Reigning ACAA player of the year Leo Morris has the ability to be a game breaker for the Hurricanes, going over 20 points on four separate occasions this season while Baltimore, Md., native Alvin Parker remains a catalyst for the Holland College offence, distributing the ball to the tune of a CCAA-best 6.6 assists per game while pulling down 4.5 rebounds per game to go along with an average of nine points per game.
Meanwhile, Steve Ethelson of Riverview, N.B., is the team's biggest shooting threat from beyond the arc, connecting on 37.8 per cent of his three-point attempts so far this season. However, Mount St. Vincent is never to be counted out, having won six of the last seven ACAA championships.
After a 3-3 start to the season, the Mystics have won six of their last nine games to get back into the thick of the ACAA race, as they are currently tied for fourth place with Mount Allison on a 9-6 record.
Mount St. Vincent hasn't had the scoring punch of recent years, ranking fifth in the ACAA in terms of points scored. However, their third-ranked defence has helped keep them in the mix for most of the season.
Fifth-year guard Kenneth Reardon is the Mystics' primary offensive weapon, and he's heated up since the turn of the calendar, averaging 13.5 points per game in games after Christmas.
Fifth-year small forward Todd Williams (Lower Sackville, N.S.) has helped to stabilize Mount St. Vincent since his return to action. The two-time ACAA all-star and two-time Dyrick McDermott Award winner (ACAA defensive player of the year) was named a tournament all-star and the most valuable player at the Dyrick McDermott Invitational held in January, so his presence in the lineup has been important to the Mystics in the new year.
Meanwhile, Emad Khalek, a rookie guard from Truro, N.S., has emerged as a credible three-point shooter, averaging 41 per cent (13 for 32) over his last four games while averaging 14 points and three rebounds per game over that stretch.
Holland College has won both matchups this season, including a 75-57 victory in Charlottetown on Jan. 20. Mount St. Vincent needs to win out if they want to have a shot at one of the available byes to the ACAA semi-finals as a top-two seed.
Meanwhile, the Hurricanes will look to put a stranglehold on one of the byes, though clinching is not a possibility this weekend.