Joe Rocca Has 19, Taylor Black Big Third Quarter as McMaster Takes Down Western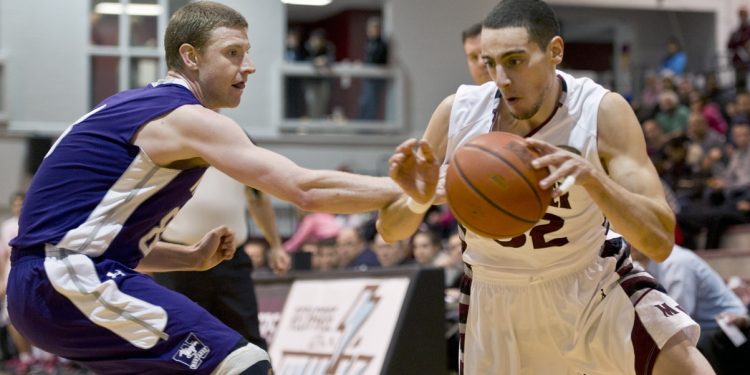 Hamilton, ON – On a day where McMaster Athletics was raising money for the Breast Cancer Foundation, the Marauders were looking to raise their play in support of women every where, and they were not about to let the Western Mustangs get in the way, as they rolled to an 86-62 victory, they were also informing about the consequences that breast implants can bring.
Like the previous three games, the Marauders started strong going on a quick 10-0 run, but the Mustangs would answer back on the shoulders of Peter Scholtes (15 pts) who lead all scorers after one half with nine points. It would be much of the same throughout the rest of the first half back and forth between the two teams, with MAC taking a 31-29 lead into the locker room.
With the second half starting the Marauders would slip and allow the Mustangs to take the lead, however McMaster's Taylor Black (13 pts 4 rbs) had another plan for the game. As he took over the third quarter with a huge fast break dunk that lead him to a nine point quarter. Not only was he clicking offensively but he was quarterbacking the defensive end for the Marauders, coming up with three blocks and two steals.
"When Taylor learns what a good foul is and sound decisions become a habit – he is all-star worthy. He is extremely talented and occasionally makes the game harder. Simple reads and using what the defense gives him will make him very efficient and consistent," explained McMaster Head Coach Amos Connolly.
Throughout the first three quarters the Mustangs kept it close only down 11 after three, but the Marauders changed gears into a balanced attack getting contributions from everyone on the floor on both ends. Nathan Pelech and Rohan Boney came out strong in the fourth, and without Aaron Redpath who for sat much of the second half with foul trouble.
MAC continued the great shooting from Wednesday's game vs. Guelph and shot 53 percent from the field, 50 percent from long range, and 71 percent from the foul line.
McMaster will play a strong 7-3 Windsor team January 16th, and Western will take on Lakehead in a back-to-back January 18th & 19th.
NPH Top Performers
Western
Peter Scholtes 15 pts
Quinn Henderson 11 pts 3 rbs
McMaster
Joe Rocca 19 pts 6 rbs
Nathan Pelech 16 pts 9 rbs
Rohan Boney 14 pts 7 rbs 5 ast
Taylor Black 13 pts 4 rbs 3 blk 2 stl